DanaShift Services and Growth System
DanaShift was built to address the
growth imperative:
 delivering s
ustainable and profitable growth
 is what enables organizations to serve more customers, access resources, reinvest in innovation and renew themselves.
We designed our team around 5 practices that together form the DanaShift growth system – read about them below.
As experienced business operators, rather than pure strategists, we understand that knowing the "answer" doesn't grow revenue in and by itself. Executing change is the real challenge. It requires an authentic focus on understanding your people and your culture, as well as robust tools and metrics.
Each of our 5 practices shares the same focus on seeing through implementation to deliver impact: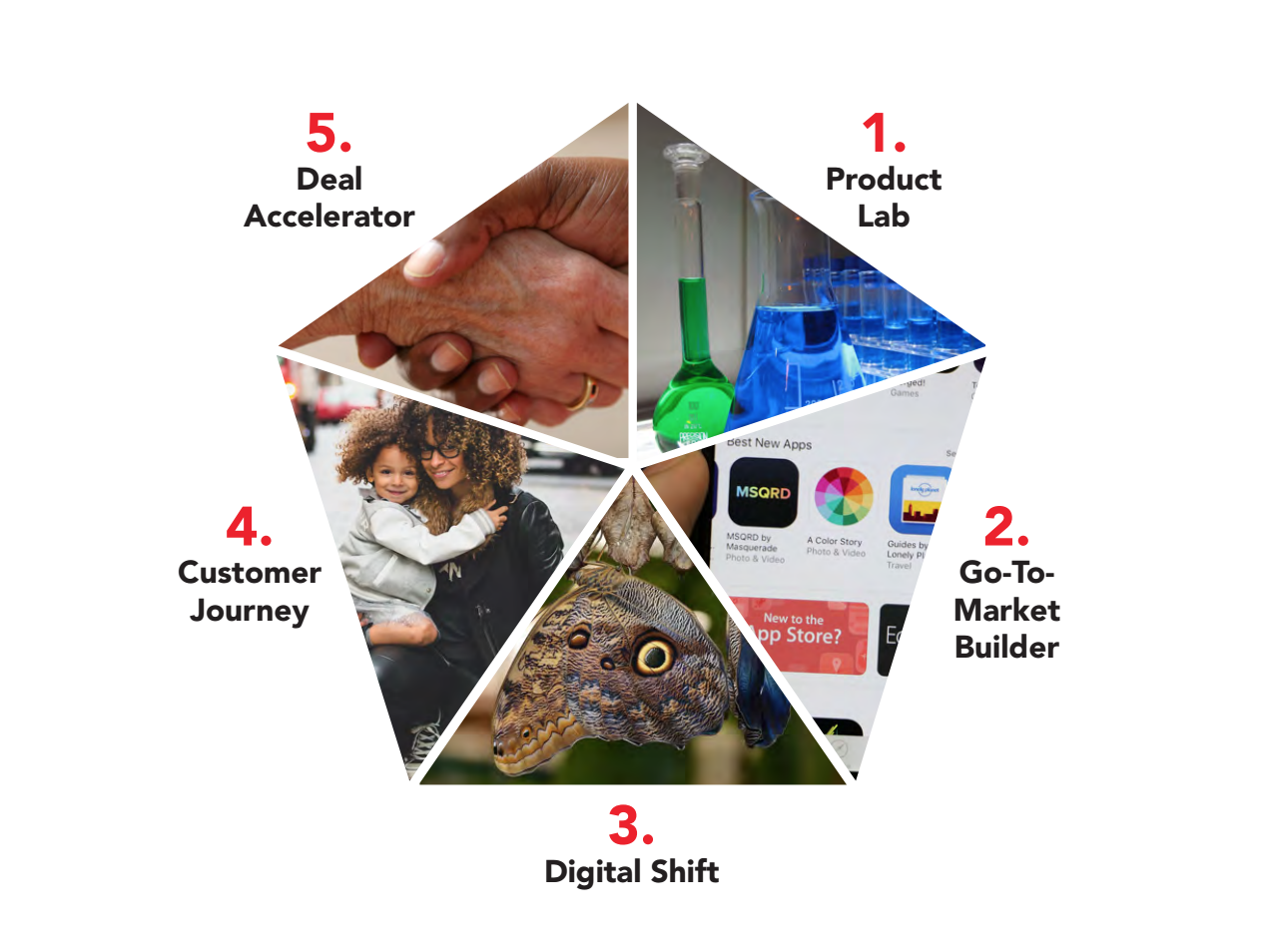 1. Product Lab
Design the portfolio and the individual products and services that will spur growth. We use iterative agile development methodologies inspired by the software-as-a-service (SaaS) industry, augmented by quantitative data analysis and qualitative voice-of-the-customer input. We focus ruthlessly on the "minimal viable product" (MVP) and encourage a "fail fast" mentality. Our role may stretch from a short 2-week workshop-based kick-starter model to partnering with your team throughout the business incubation or building process.
2. Go-to-Market Builder
Implement the efficient customer-centric commercial model that will drive brand preference. Internal alignment around the burning platform for transformation is created through objective inputs such as a comprehensive marketing capabilities assessment, brand dashboard (brand architecture, brand imagery, positioning, messaging framework, content, alignment), stakeholder mapping, customer trigger modeling and sales effectiveness analysis. The target model often combines creative multi-channel options and no-nonsense sales execution. We facilitate client-led implementation through leader coaching, project management, creative communications, and impact analytics. End products may include a brand folio, channel resource plans, tactical deployment dashboard, sales plan of action (POA) materials and training, and KPI dashboards
3. Digital Shift
Move to a digital-first customer engagement model, from lead generation to retention management. B2B and B2C customers alike expect innovative easy-to-use solutions to their needs. As business operators we have direct experience building digital platforms that have changed their industries. We combine a deep understanding of healthcare ecosystem, and the resources to execute, including the UX, web design, SEO, SEM, social, app development and architecture capabilities needed to get the job done. Sometimes a prototype will speak louder than a lengthy strategy brief.
4. Customer Journey
P
ut the customer experience (CX) back where it belongs: at the center of your approach to customer acquisition, utilization and retention
. We will start by mapping your existing customer touch points and utilizing immersive techniques to sensitize the organization to what customers see and feel. Where the rubber hits the road is the development of and implementation against a tactical CX roadmap for the organization, with concrete actions to drive change. We have developed best-in-class dashboard metrics that will enable continuous improvement. Our team is certified in CX management, and is equipped to implement changes in the field.
5. Deal Accelerator
U
tilize partnerships, alliances and inorganic growth to deliver on your plan
. As insiders, we will identify the right partners, and work with you to identify the combinations of capabilities that will take the industry to the next level. We will accelerate returns by supporting you throughout the deal process: target qualification, alliance development, deal structuring, financial modeling, diligence assistance, and post merger integration support from cultural alignment to synergy capture. Our consultants have been involved in transaction values from $100k to $10+ billion.